Different colors can communicate diverse feelings in your home and affect a person's mood, such as making them feel excited, calm, passionate or anxious. By understanding color psychology, you can create or change people's mood to your liking.
It's important to note that every color can create a different impact on different people. Many factor's can influence this, like age color, gender, climate or any other personal difference. However, people will always respond to color-no matter what.
RED
Red represents passion, strength, adrenaline and danger. It's a bold color that stimulates and excites. In living rooms or dining rooms, red can draw people together and create conversation or stir up excitement. However, too much influence under the color red can raise blood pressure, over-stimulate the home or speed respiration and heart rate.
Get the look here!
Get the look here!
Get the look here!
ORANGE
Orange is an energetic color. It symbolizes courage, hospitality, enthusiasm and can make you feel adventurous and friendly. People who love red but are not too fond of its aggressive impact can replace it safely with orange. This fun color is ideal for kid's room, dining room, office, and even the living room. In ancient cultures, orange was believed to heal the lungs and increase energy levels.
Get the look here!
Get the look here!
YELLOW
Yellow captures the joy of sunshine and communicates happiness. It's the color of warmth, wisdom, prosperity, sympathy and cowardice. A room colored in yellow can look cheerful, friendly and airy.  It is an excellent choice for kitchens, dining rooms and bathrooms, where it is energizing and uplifting. In halls, entries and small spaces, yellow can feel expansive and welcoming.
Even though yellow although is a cheery color, it is not a good choice for main color schemes. Studies show that people are more likely to lose their temper in a yellow interior. In large amounts, this color tends to create feelings of frustration and anger.
Get the look here!
Get the look here!
Get the look here!
GREEN
Green is considered the most restful color for the eye and the color of nature. It also symbolizes hope, good luck and abundance. It is a cool friendly color that mixes well with many other colors and it is suited for almost any room on the house. In the kitchen, green cools things down; in a family room or living room, it encourages unwinding but has enough warmth to promote comfort and togetherness.
This color is also known for its calming effects when used as a main color for decorating. It is believed to relieve stress by helping people relax.
Get the look here!
Get the look here!
Get the look here!
BLUE
Blue is an important color in interior design theory and it affects the human mind profoundly, which is why it's the perfect color for bedrooms and bathrooms. It is said to bring down blood pressure, slow respiration and heart rate and instills a sense of serenity and peace. This cool, quiet and reserved color can also represent formality.
However, be careful of what shade of blue you choose. A pastel blue that looks pretty on the paint chip can come across as unpleasantly chilly on the walls and furnishings. Warmer blues can encourage relaxation in social areas such as family rooms, living rooms or large kitchens. Dark blue has the opposite effect, evoking feelings of sadness.
Get the look here!
Get the look here!
Get the look here!
PURPLE
Purple is considered the color of royalty. It can give a space a dignified and dramatic look. In its darkest values is becomes rich, dramatic and sophisticated and is associated with luxury and creativity. As an accent or secondary color, it gives a scheme depth. Lighter versions of purple, such as lavender and lilac, bring the same restful quality to bedrooms as blue does, but without the risk of feeling chilly.
Get the look here!
Get the look here!
BLACK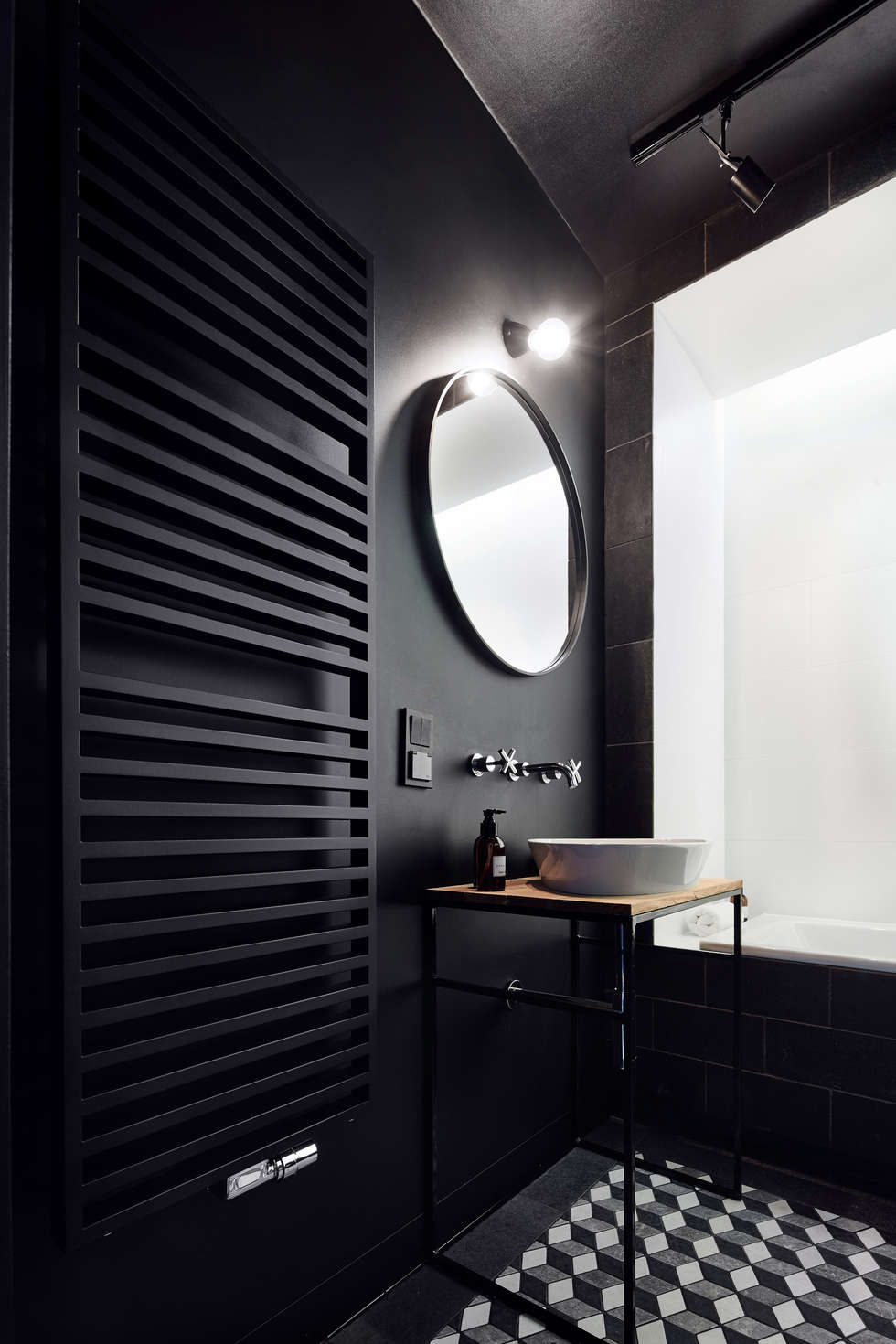 Black is associated with evil, mourning and death. However, it is also the color of wisdom. Black is always used in small amounts with contrasting, complementary colors. Some experts maintain that every room needs a touch of black to ground the color scheme and give it depth. When used right, it can add a timeless elegance to a room.
Get the look here!
Get the look here!
WHITE
This fresh, peaceful color is used widely in interior design theory where it can instill feelings of youthfulness, faith and innocence. White can help smaller spaces appear large. It can also make rooms look livelier, fresher and crisper.
Get the look here!
Get the look here!